The Alliance Community Pantry is a 100% volunteer organization – i.e. there is no paid staff. Volunteers come from all segments of our community. Some volunteers work one day a week every week while others work only a few times a year. There are opportunities for YOU to volunteer to meet YOUR time availability and YOUR physical capabilities.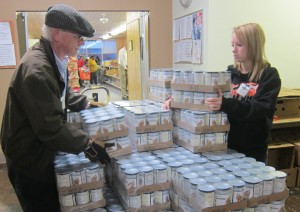 Volunteers fall into two categories:
Volunteers that work at the pantry serving clients during our open hours.
Click on the  drop down "Pantry"  link under "Volunteers" to learn about these jobs
Volunteers that do other tasks supporting the panty.
Click on the drop down "Other" link under "Volunteers"  to learn about these  opportunities.
Volunteering is FUN! and MEANINGFUL!  Ask any of our volunteers – and there are close to 200 that have volunteered at some time since we've opened.  Volunteers enjoy the fellowship and the contact with our clients.  Our Volunteers are a great team – working together to get the job done!
WANT TO VOLUNTEER?   Here are the ways to get started:
Go to CONTACT US link on this web site and you can let us know by email.  State your interests or just say "call me".
Call us at 330-680-8130. If you're calling outside of our open hours, your message will be recorded and you'll get a call back.
Stop in during our open hours and talk to the Day Supervisor in charge that day.
Volunteers need to fill out a couple of forms when they first start.